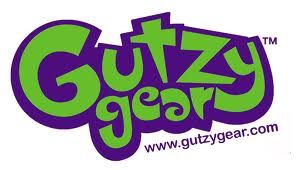 Have you seen Gutzy Gear accessories yet? If not, you've got to check them out.
There is a Gutzy Gear Backpack Strap Cover, which serves as the base of your child's creativity. Once you have that you decorate the straps with great velcro badges, or Gutzies.
The Gutzy Gear Straps can go on backpack straps, bag handles, duffle bag straps, guitar strap, scooter handle, luggage handle, light saber (don't ask!) etc. The strap is about 11 inches tall, and the width is flexible as it is adjustable using the velcro closure strips, thus allowing it to be put on just about anything!
Here is Logan's backpack. When we put on his Gutzy Gear strap covers, we went to our local Bed, Bath and Beyond to see what Gutzies they had. As you can see, we had a lot of fun! He gets to move the Gutzies around and can change his favorites around.
They pull off and on fairly easily with the use of velcro, which makes them easy to move around, and fun to trade with friends. And I'm really impressed with the stitching detail.
While we were out, we also picked up a few sets to have on-hand for birthday gifts, and so far they have been a big hit.
One of the best things about Gutzies, is that there are a ton available already and they are always creating new ones. Check out the new character line (Logan has GOT to get a few of these, so I'm thinking of creating some rewards for meeting goals), that includes favorite Super Hero figures along with fun cartoon characters.
Not only do they have great Gutzies, but they also have a place where kids can
download/print
some fun free posters and the badges from Series 1 and Series 2.
I loved reading about how Gutzy Gear began: Gutzy Gear was created by cousins Lauren Bass and Wendy Koolik, after the pair wanted to create a children's line of accessories that promoted creativity while being personal, fun and interactive. After finding their Grandmother's golf sweater filled with golf badges, they came up with the Gutzy Gear ideas.
Stay tuned for more great pictures from our upcoming Gutzy Gear Party!!!
Gutzy Gear (Accessories and prices vary)
by Gutzy Gear
Kids / Accessories / Creativity
Edition Reviewed: Gutzy Gear Straps and Badges - Review copy received courtesy of Gutzy Gear in coordination with a Karma Media Review Campaign!
Giveaway Details:
Open to residents of the US, Enter now through 8/24. Easy Rafflecopter entries:
a Rafflecopter giveaway
*Disclosure: I received samples in exchange for my honest review in participation with this campaign.